Presses de l'Université Concordia
Lancées en 2016, les Presses de l'Université Concordia sont une maison d'édition sans but lucratif. Leurs ouvrages, ayant fait l'objet d'un examen critique, franchissent les frontières disciplinaires et ouvrent la recherche savante à de nouveaux domaines. Leur collection dynamique et toujours croissante est centrée sur les disciplines des sciences humaines, des sciences sociales et des beaux-arts. Leur attention se fixe actuellement sur des projets axés sur le genre et la sexualité, l'histoire des médias et de la technologie, l'architecture, les arts visuels, l'étude d'ouvrages et les études culturelles. Les Presses s'intéressent également au développement de projets, tant avec des chercheurs en début de carrière ou en situation précaire qu'avec des chercheurs établis.
Leurs livres sont publiés en version imprimée et commercialisés à grande échelle. Les Presses croient fermement à l'érudition ouverte et offrent des versions numériques de leurs titres, sans aucune barrière ni restriction.
Parmi nos collections :
Authors, Publishers, Readers, Texts: Studies in Book History and Print Culture;
Building Arguments (collaboration avec le Centre Canadien d'Architecture);
Counter-Archives: Media and Material Practices;
Cultural Production and Everyday Life;
Media Before 1800;
Text/Context: Writings by Canadian Artists.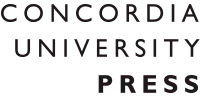 Presses de l'Université Concordia
1455, boul. de Maisonneuve Ouest
Montréal (Québec)
Canada H3G 1M8