Concordia University Press
Launched in 2016, Concordia University Press is a non-profit publisher of peer-reviewed books that cross disciplinary boundaries and propel scholarly inquiry into new areas. Our list is organic and growing with a focus on disciplines in the humanities, social sciences, and fine arts. At present we are interested in projects that engage with gender and sexuality studies; media and technology history; architecture; visual arts; book studies; and cultural studies. We are equally interested in developing projects with early career or precariously employed scholars as with established researchers.
Our books are published in print and marketed widely. We are also committed to open scholarship and we make digital versions of our titles available without any barriers or restrictions.
Our series include:
Authors, Publishers, Readers, Texts: Studies in Book History and Print Culture;
Building Arguments (an initiative with the Canadian Centre for Architecture);
Counter-Archives: Media and Material Practices;
Cultural Production and Everyday Life;
Media Before 1800;
Text/Context: Writings by Canadian Artists.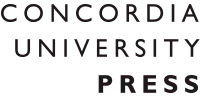 Concordia University Press
1455 de Maisonneuve Blvd W.
Montréal, QC
Canada  H3G 1M8